Series Five arms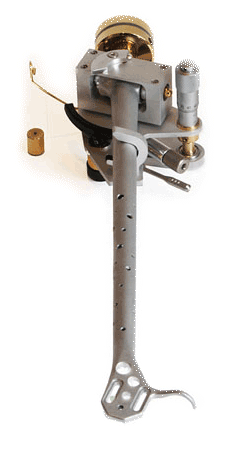 Ordering
Email your enquiry to
jeff@audiomods.co.uk
to have an arm custom built to your specification. We can discuss your exact needs before confirming your order.
Series Five arms
With over 1000 examples of these hand-built arms in use and a reputation for a level of performance that can be compared with some of the most expensive tonearms in the World, you will find Audiomods arms partnered with very exotic turntables and cartridges.
While we've continually made improvements to quality and performance this is the most significant upgrade yet. The Series Five arm has been designed around Rega's new generation 202/303 arm tube casting, their first major revision for 30 years. The most obvious change is the new, redesigned arm yoke. The two bearing caps are now machined as a single unit, linked with a thin, solid bridge, which encloses the arm tube in a complete box section.
What isn't visible is the new bearing carrier and shaft, hidden within the base, with the bearing shaft set up into the arm yoke, an even more rigid structure than the previous versions. The result is greater bass definition, improved imaging and better retrieval of fine detail. .
"...an arm that will outperform anything at remotely it's price level…"
"….one of the finest arms you can buy regardless of price…"
Geoff Husband, TNT-AUDIO
Read the review
"The degree to which you can hear what's going on in the mix is quite remarkable and the way it combines this analysis with musicality is extremely engaging."
"…amazing value for money and offers some of the finest engineering you will see on any tonearm."
Jason Kennedy, Hi-Fi Choice
Read the review
"I am going to make this short and sweet. If you own a Rega RB250 or RB251 or are considering a tonearm in this price range, I cannot think of a better choice than the Audiomods tonearm."
Nels Ferre, Enjoy the Music
Read the review

"This is audiophile heaven. Does it work as well from a music lover's point of view? The flow is beautifully modulated, supple, ductile, sensuous and balanced."
"...a very classy-sounding arm and an exciting prospect for people looking for close to super-arm sonic capabilities at an affordable price."
Edward Barker, Six Moons.
Read the review
Standard arm, Series Five

Silver internal wiring, 5-pin Cardas connector

£645

Continuous silver wired loom and interconnect (0.9m)

£695
Micrometer arm, Series Five

Silver internal wiring, 5-pin Cardas connector

£745

Continuous silver wired loom and interconnect (0.9m)

£795
Options, either version
Choice of matt or polished finish
£00
Gold plated counterweights and accents
£35
New bridged arm yoke

Lightweight micrometer option for precise vta adjustment

Custom alloy arm rest

Redesigned horizontal bearing assembly with ceramic bearings throughout

New generation 303 arm tube

vta finger lock
Headshell shim kit
Variable mass counterweight
Silver litz wiring loom with KLE silver bullet RCAs

Options of gold plated or stainless steel counterweight and detailing
Chioce of finish
Series five arms come with a choice of polished or matt "frosted" finish as standard and stainless steel or optional gold plated counterweight. Choose the best visual match for your turntable. The matt finish can be the perfect complement with modern decks, while the polished finish suite turntables with matching polished aluminium features or mant classic decks.

Some well tested principles

The performance of any arm depends upon how accurately it can be set up, and to help get the best from the Series Five arms we include tools for precise cartridge matching and adjustment including a new variable-mass counterweight and a set of headshell shims. The heavier shims are of annealed copper and will suit cartridges of low compliance and light body weight. The light alloy shims will fine-tune many moving coil choices. The new counterweight comes with removeable copper shims to adjust its mass and position for optimum performance.
As always, each arm is made to order, individually numbered and packed in a wooden presentation box. The Series Five arms are also available in a standard (non-micrometer) version, still with built-in vta.

Choose stainless steel or optional gold plating for counterweights and accents
Which model to choose?
For the best comparison between the two models of Audiomods arm,
Classic II arm
Classic arm
Classic II arm
£495

Classic II micrometer arm

£595
Options

Stainless counterweights

£20
Headshell shims
£20
Ceramic bearings throughout

Highly modified new Rega 303 arm tube with internal bracing and solid bearing carrier

Constrained layer counter-weight with adjustable mass

Built-in vta adjustment and vtf fine adjustment weight
Ordering
Email your enquiry to
jeff@audiomods.co.uk
to have an arm custom built to your specification. We can discuss your exact needs before confirming your order.
Classic II arms
"...The Audiomods Classic II should be at the top of the list for anyone shopping for an affordable tonearm. I cannot think of a significant limitation to this arm given what it costs."
"If a person is searching for a quality tonearm under the $1000 mark, I would say that your best choice is going to be the Audiomods Classic II arm, as it stands head and shoulders above any other arm in this price range."
John Hoffman, Positive feedback
Read the review
The original Classic arm has proven exceptionally popular with owners who want to get the most performance for their money.
The Classic II builds on this by incorporating the new generation Rega 303 arm tube and features from the Audiomods Series Five arms which make for a real performance upgrade over the original.
Previously optional features – alloy arm rest and stainless vta lock– are now standard, resulting in a package that is actually a saving over the original.
If you have a budget but don't have the tools or skills to build up an Audiomods arm from a kit, this is the ideal solution: a complete, ready-toplay Audiomods arm with performance that has been reviewed against arms of four times the price and one that won't be out of place with some of the most exotic turntables and cartridges.
The Classic is built to the same standard as the Series Five arms and uses new Rega factory parts for the arm tube and arm lift with every other component machined from solid billet. Each hand-made arm is individually numbered for the owner and comes with comprehensive instructions and setup tools.
New Classic II standard features
- Variable mass counterweight
- Alloy arm rest
- Stainless steel VTA finger lock
- Series Five horizontal bearing assembly
- New generation 303/330 arm tube
- Cardas continuous wiring loom with KLE Eichmann RCAs

Complete wiring loom
The wiring loom is a single run of Cardas 33g wire from the Michell silverplate cartridge tags to the silver-plated RCAs, wired in a "pseudobalanced" configuration in the same way as the Series Five arms, with a separate ground connection, and a screened 0.9m interconnect section.
This is an extra-flexible cable, particularly suited to suspended turntables..
Choose original polished or Series Five matt finish at the same price. The Classic arm is only available on direct order, not through any retailer.
Delivery charge: UK £12, Europe £18, Rest of the World £24
Payment: by Paypal, sterling cheque or credit/debit card when the arm is ready to ship. No deposit needed. Delivery time: 3-4 weeks

For sales outside UK end the EU, local taxes or customs duties may apply on import.